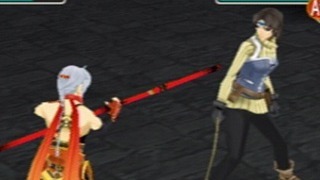 Electronic Gaming Monthly, May 2006:
This latest Suikoden's story is as good—and long-winded—as ever, narrated through tremendously well-acted, very pretty, and frequent cut-scenes. But while the cut-scenes impress (and help to move the story along), a strange murkiness totally undermines the in-game graphics' detail and artfulness, even when you zoom in on the action.
And the large-scale strategic battles—that's right! War!—move in disconcerting real time, resembling something like an upset anthill, with battle units all moving in a panic. Though these war scenes feel woefully out of place, they at least make the game feel even more epic. Actually, my Russian lit professor back in college [Ilya Kutik] used to shout at us, "What is epic? It is long and boring!" Yeah, kind of like that.